Jay A. Cherner, M.D.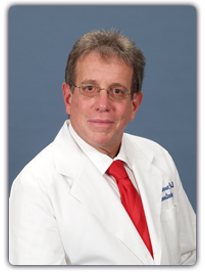 Jay A. Cherner, M.D.
After eighteen years of solo practice at North Atlanta Gastroenterology, Dr.Cherner was presented with an opportunity to build upon his tradition of excellence by adding greater range and depth to the services he could offer the residents of Atlanta's northern suburbs. On January 1, 2011, Dr. Cherner merged his practice of gastroenterology with three other practices that share his vision and standards, to form Gastroenterology Consultants, P.C.
Dr.Cherner was first lured to Atlanta in 1981 by the fellowship in the subspecialty of gastroenterology that he was offered by Emory University School of Medicine. A native of New York City, he graduated from the Bronx High School of Science to enter Wesleyan University at the age of sixteen. After receiving his B.A. from Wesleyan, he went on to receive his M.D. from the University of Medicine and Dentistry of New Jersey, in Newark, in 1978. He returned to the Bronx to serve his internship and residency in Internal Medicine at the Montefiore Medical Center campus of Albert Einstein College of Medicine, before deciding upon gastroenterology as his subspecialty and future career. Following his gastroenterology fellowship at Emory (where three of the five other physicians in our group also trained), Dr. Cherner performed a second gastroenterology fellowship dedicated to basic and clinical research at the National Institutes of Health in Bethesda, Maryland. It was during these "golden years" of 1983 through 1985, that Dr. Cherner was among a group of several physician-investigators that were the first in this country to explore the potential of omeprazole (Prilosec) and famotidine (Pepcid) to reduce acid production by the stomach, and to use octreotide (Sandostatin) to treat pancreatic cholera, leading to the publication of the first U.S. experience with these drugs.
His years at N.I.H. set Dr. Cherner on the path of academic gastroenterology – the challenge of balancing scientific investigation and educating young physicians, while continuing to ease and prevent the suffering of patients with digestive disorders. That path led to southern California, where he joined the fulltime faculty of the School of Medicine of the University of California at Irvine as Assistant Professor of Medicine in Residence III. There he won the first two of his three consecutive federal grants to support his lab investigating the regulation of gastric secretion, mechanisms of protection of the stomach, and the roles of gastrointestinal hormones, for which he was honored by the University of California at IrvineI with a Young Investigator Award. His research was published in the most prestigious medical journals: The New England Journal of Medicine, Annals of Internal Medicine, the Journal of Clinical Investigation, Gastroenterology, the American Journal of Clinical Gastroenterology, the American Journal of Physiology, and the Journal of Biological Chemistry, among others.
In 1988 Dr. Cherner was recruited by Vanderbilt University School of Medicine as Assistant Professor of Medicine, where his development continued predictably. But he found that the demands of a productive research career were pulling him away from the very reason he became a doctor in the first place – helping sick people. Therefore, in 1991 he redirected his career back to its clinical roots. Living in Nashville brought him close enough to the city and people he had enjoyed so much during his days at Emory, making metro Atlanta an obvious location for his entry into private practice. After nine months of learning the ropes of private practice as the new associate of an established gastroenterologist, Dr. Cherner felt the time was right to go out on his own, and established his solo practice, North Atlanta Gastroenterology, PC in July 1992, located where Roswell meets Alpharetta. Several months later he opened a second office in Cumming. Although the Cumming office recently closed, Dr. Cherner's relationship with north Georgia patients continues to flourish in his Alpharetta office.
Dr. Cherner was honored by being elevated from member status to the position of Fellow of the American College of Physicians in 1987, having been elected Fellow of the American College of Gastroenterology the year before and elected to membership in the American Society for Gastrointestinal Endoscopy in 1987. He has been an active member of the American Gastroenterological Association for the past 27 years. His contributions more locally include his serving on the Medical Advisory Board of the American Liver Foundation, membership in the Georgia Chapter of the Crohn's and Colitis Foundation of America, and serving as Vice-Chairman of the Department of Medicine of North Fulton Hospital during 2009 and 2010. When the Georgia Endoscopy Center opened, Dr. Cherner was its first Medical Director and served in that capacity for the Center's first five years.
For pleasure, Dr. Cherner delights in experiencing cultures different from our own. This passion has taken him to Tibet, to ride a yak, India, to experience dawn in a rowboat on the Ganges, trekking in Nepal, diving in the Maldives, and most recently, there was the Tango in Argentina and the Samba in Brazil. But most of his free time is spent at home in Alpharetta, enjoying his wife, a book he never got to in college, and of course, his English bulldog, Meatball.